Welcome to my ramblings – I hope you get to hear something encouraging, something inspiring, something to help you live your life better.
My first big show.  My first juried show.
And away we go go go…….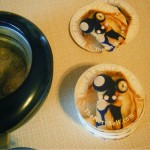 A paper box stuffed full of people, awaiting their Halloween Ball masks; a box of gift bags for all those scores of people who will purchase said people;a stack of "I love me some Miz Callie!" stickers, all punched out and ready to be hard-sell stuck to unsuspecting patrons at the Show.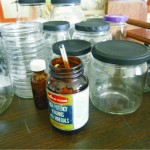 Glass jars with lids all painted flat black, ready to fill with people or strange-looking science lab bits.
Receipts and adoption cards ready to be printed; business cards ready to be ordered; a sign idea still floating about until the actual glass substrate is found; lists and lists of things to do to be ready.
Nervous. Excited.  It depends on the moment of the day.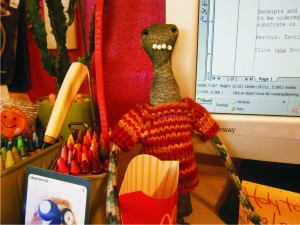 Clive sits in front of me, cheering me on.  His happy face is an encouragement that making these people really IS fun and a worthwhile escapade. (Although, Clive, I must say that sweater is not really doing you any favors….so I think Maudeleine would like it back.)
And, yes, away we go go go…….
into the wondrous dark abyss of making art for a living – not knowing how quickly this will take off; wondering if it will take off at all; excited about being able to create little people and send them of to live their lives and have adventures in other lands.  And get paid for it.