Tomorrow morning we go set up our booth/display thing at Jeanine Taylor Folk Art!  The preview show starts at 6:00 Friday night, and then the regular show is at 10:00 Saturday morning.
Holy.
Cow.
I'm really doing this!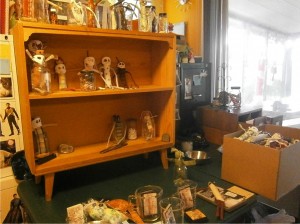 All kinds of nuts and bolts to have ready, but the Skaerrenvolk are ready and packed, and the Knöckenvolk are almost ready.  Paegs (knitted cats), hats, and sweaters are all packed along with the apothecary jars and other such display props.
It's going to be an adventure!