Welcome, bloggers and fans!  Here are the details of the Blog Hop – good luck everybody and happy hopping!!
This blog hop will run from Monday, December 10th through Sunday, December 16th.  A winner will be picked Sunday night and announced on our blogs on Monday, December 17th.
Here are the rules to be entered to win.
Please be sure to follow all three rules.
1.  You must visit each of the seven blogs.  (They are listed below.)
2.  Once there, you must sign up to be a follower.  If you already follow the blog, please say "I'm already a follower" in your comment to enter.
3.  After you sign up to be a follower of the blog, you must leave a comment in the comment section (under this post) asking to be put into the giveaway.
And that's all there is to it!  We will enter your name into the giveaway and one lucky person will win the whole bonanza of handmade ornaments!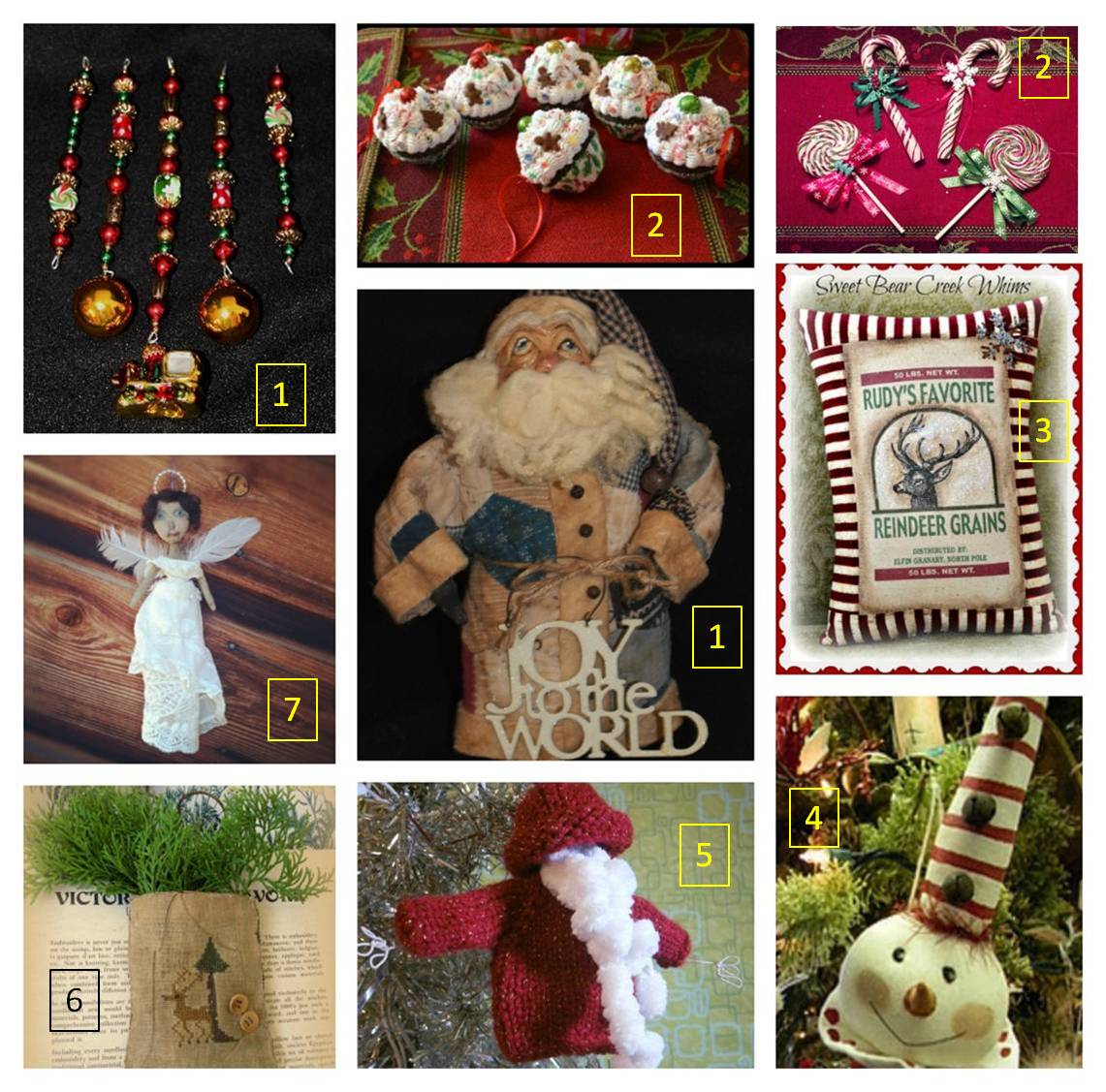 There are seven artists participating.  The above pictures are numbered according to the artists listed below.  They are:
1. Carly Smith (our wonderful host) from Boggy Bottom Bayou – Carly is giving away a gorgeous set of vintage, mercury glass and lamp work bead ornaments.  Oh so pretty and very vintage!  And as a BONUS – if she gets 20 new followers on her blog, Carly is giving away a 10″ Santa in an adorable quilted outfit! (See middle picture #1.)  Click on this link to go to Carly's blog: http://boggybottombayou.blogspot.com
2. LeeAnn Kress from Charmed Confections –  LeeAnn is giving away a cute set of six Charmed Confections Cupcakes in a holiday tin, along with two Candy Cane ornaments and two Lollipop ornaments.  How wonderfully delicious! Click on this link to go to LeeAnn's blog: http://charmedconfections.blogspot.com
3. Jody Johnson from Sweet Bear Creek Whims – Jody is giving away a beautiful reindeer pillow.  LeeAnn (above) says, "Sooo cute!  And I should know – I have one! Absolutely darling – you won't want to part with it!"  Click on this link to go to Jody's blog: http://sweetbearcreekwhims.blogspot.com
4. Brenda Griffith from The Rusty Thimble – Brenda is giving away the sweetest snowman ornament that will grace your tree.  You have to have him! Click on this link to go to Brenda's blog: http://therustythimble.blogspot.com
5. Mary Bell from The Mary Bell.com – Our giveaway is a Knitty Bitty Knit Couture Santa sweater set. Its hanging hardware includes a poseable Wyreman made from recycled cat-5 wire.  Check out the close-up view below.
6.  Nicoletta Farrauto from Niky's Creations – Niky is giving away an incredible cross-stitched Pocket Keep with a darling cross-stitched reindeer and tree on it.  How cool is it that you can put fresh herbs or sprigs of evergreen in it – it will smell wonderful!  Click on this link to go to Niky's blog: http://niky-nikyscreations.blogspot.com
7. Hope Rayel from Hope Rayel Handmade Dolls – Hope is giving away a sweet, little angel doll ornament to fly around your Christmas tree this season.  Every tree needs an angel, and this one is sweet indeed! Click on this link to go to Hope's blog: http://hoperayel.blogspot.com
Scroll on down to see our Blog Hop Special that's going on! 
Here's a close up of our Knitty Bitty Knit Couture ornament:
Good luck to everyone!